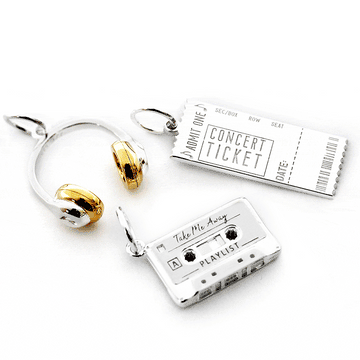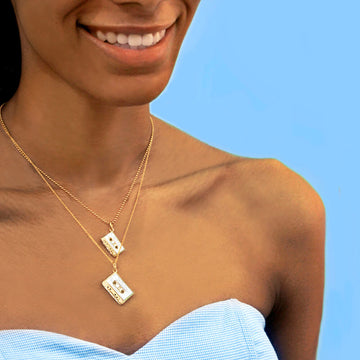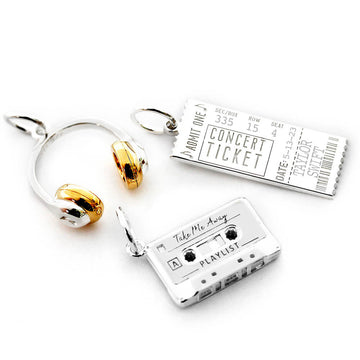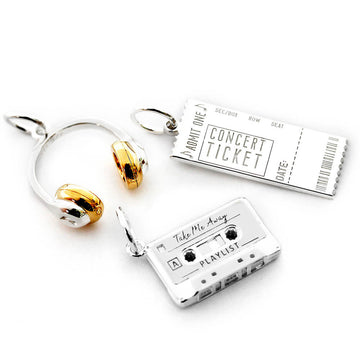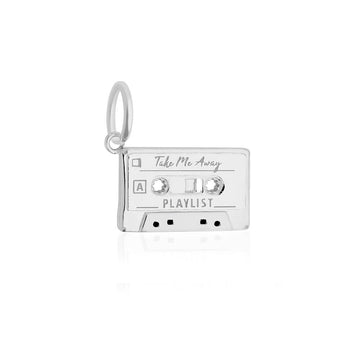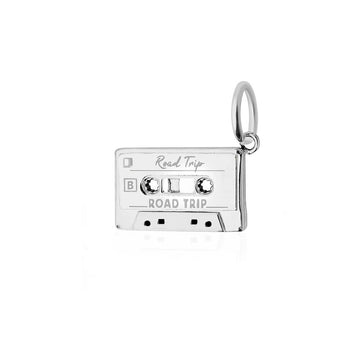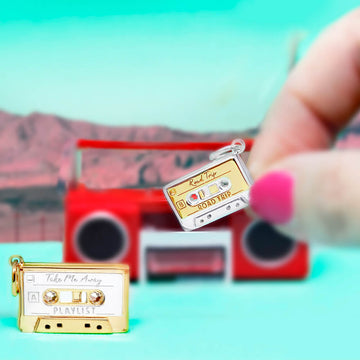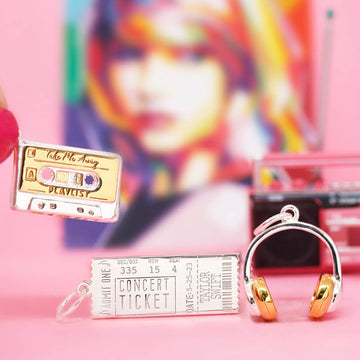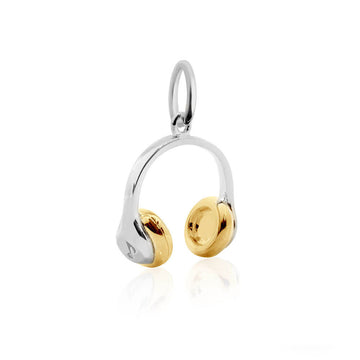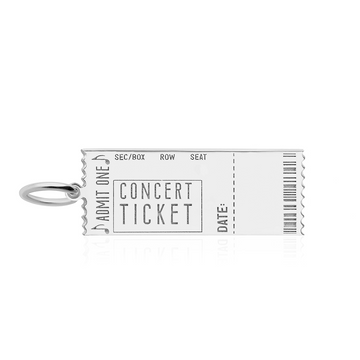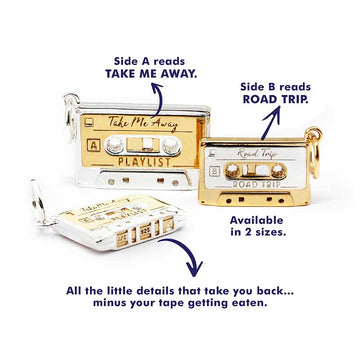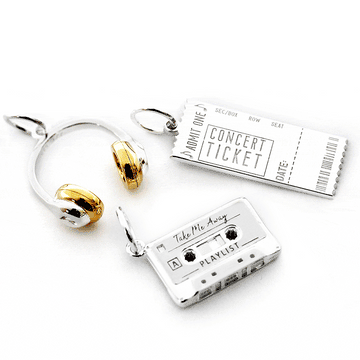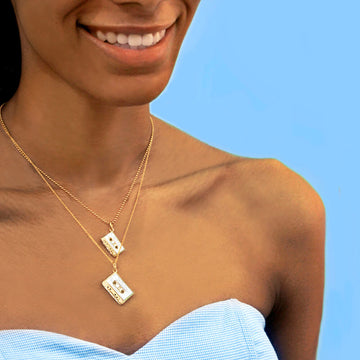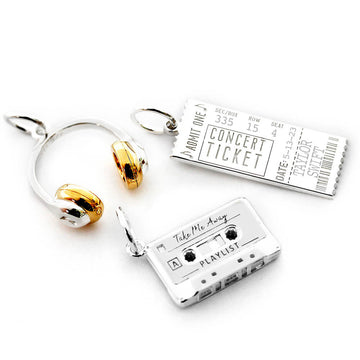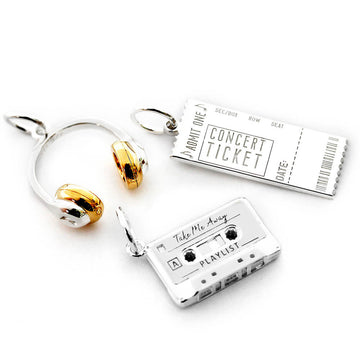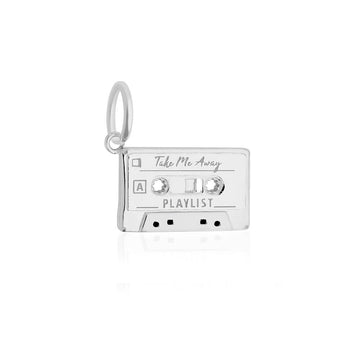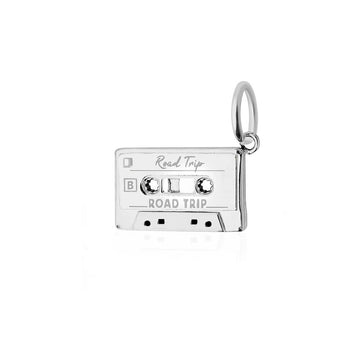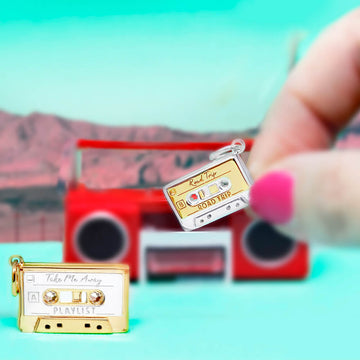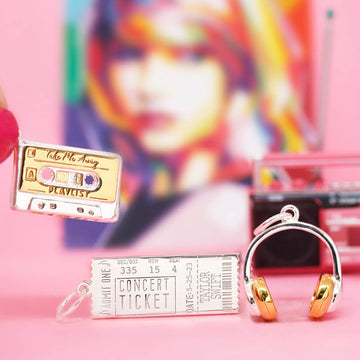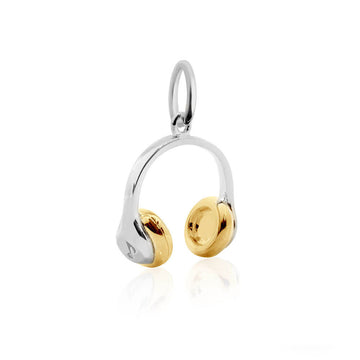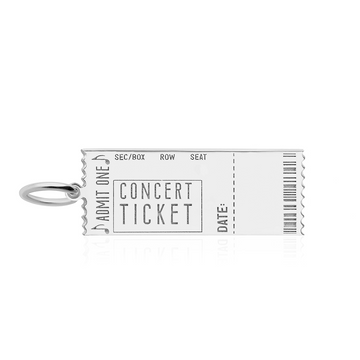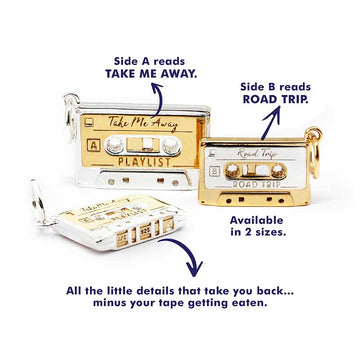 4 installments of $42.00 by
Free U.S. shipping orders $100+
Free U.S. shipping orders $100+ and expedited options at checkout.
Free 30 Day Returns
Products will be accepted for exchange, credit or refund (excluding all shipping charges) if returned in their original condition with packaging. Pre-ordered solid gold, gifts cards, items with engraving and most sale items are non-returnable.
2 Year Warranty
Jet Set Candy offers a two-year warranty covering manufacturing and material defects for genuine Jet Set Candy products. More
Details
A music lover's must-have accessory? Headphones, of course. And now we've found the perfect trio of charms you can wear with them!

Includes:
- Small Cassette Tape - approximate dimensions: 10.7 mm X 17 mm
- Two-Tone Headphones - approximate dimensions: 16 mm x 16 mm
- Silver concert ticket charm (personalize above) - approximate dimensions: 25 mm x 10 mm
The cassette tape takes you back in time with all the intricate details from reels to the tape guides, capstan holes, write-protect notches, and, of course, the window so you can see just where your favorite song got jammed–it's all there. Side A of the tape looks like it was made just for you with a handwritten style engraving of "Take me Away" above the label "Playlist" and side B is engraved with "Road Trip" above and below. 
The perfect memento of your most memorable live music experience, the sterling silver concert ticket charm charm resembles a classic paper-style ticket. In addition to delicate scalloped edges, perforated ticket stub, barcode detail, and music notes, there are tons of opportunities to make it totally yours. Personalize by inscribing with your seats or who joined you; the day, year, season, or reason; and, of course, who was headlining the show.
P.S. Enjoy our curated road-trip worthy jams here.


Read More
Shipping & Returns
Free U.S. shipping orders $100+
Standard U.S. shipping $8

Canada & Mexico: $30
Free on orders over $150

Items in stock are typically dispatched within 4 business days. Expedited shipping options are available for the U.S. upon checkout.

International shipping: $40
Free on orders over $250

International customers are responsible for all local duties and taxes.

Please see here for all shipping terms and our return policy.
Free U.S. Shipping Orders $100+ & International $250+
Size Comparison
This pendant sits perfectly on a chain, necklace, or keyring!
Gift-Ready Packaging
Hidden travel quotes, map & coordinate details, and always pops of color. More on the anatomy of JSC packaging here.

Sterling Silver
Jet Set Candy uses 925 solid sterling silver, a beautiful, versatile metal with a soft luster.

To ensure maximum durability, our silver is composed of 92.5% pure silver and metals including zinc and copper. All our jewelry is nickel and lead free and is sourced from 70% recycled precious metals. Silver and gold can be recycled forever without losing quality or value.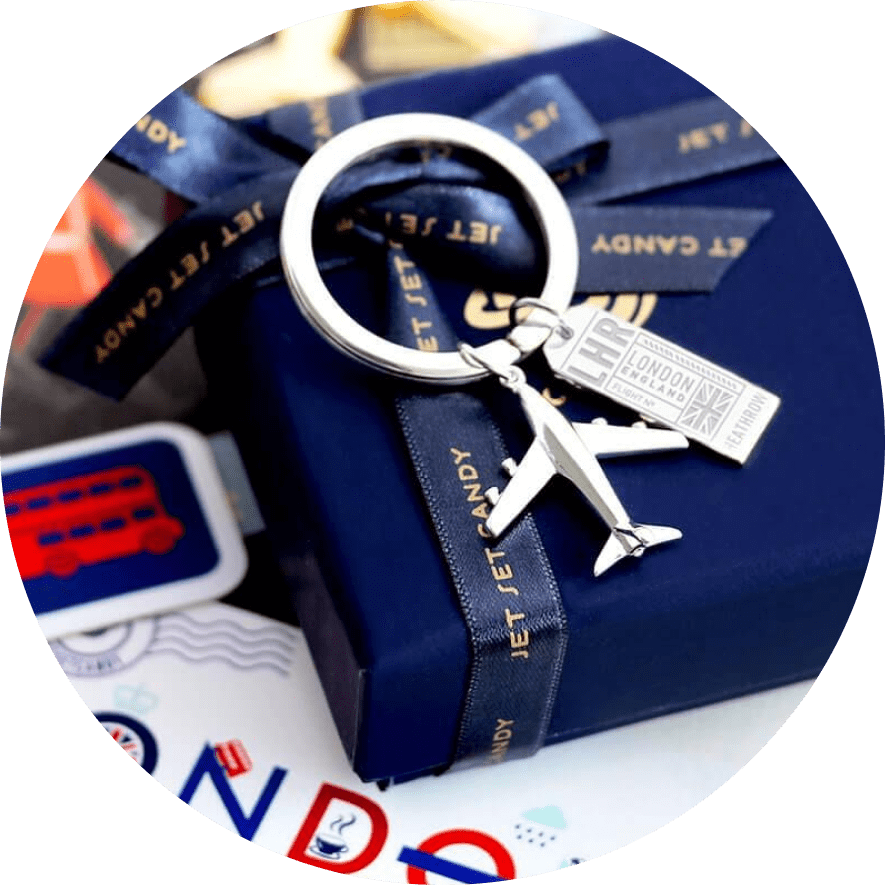 WHAT'S YOUR STORY?
Not sure where to start? Think of the place that has the most special memories for you and start from there.
COLLECT YOUR ADVENTURES • COLLECT YOUR ADVENTURES • COLLECT YOUR ADVENTURES • COLLECT YOUR ADVENTURES • COLLECT YOUR ADVENTURES • COLLECT YOUR ADVENTURES • COLLECT YOUR ADVENTURES • COLLECT YOUR ADVENTURES • COLLECT YOUR ADVENTURES • COLLECT YOUR ADVENTURES • COLLECT YOUR ADVENTURES • COLLECT YOUR ADVENTURES • COLLECT YOUR ADVENTURES • COLLECT YOUR ADVENTURES • COLLECT YOUR ADVENTURES • COLLECT YOUR ADVENTURES •
COLLECT YOUR ADVENTURES • COLLECT YOUR ADVENTURES • COLLECT YOUR ADVENTURES • COLLECT YOUR ADVENTURES • COLLECT YOUR ADVENTURES • COLLECT YOUR ADVENTURES • COLLECT YOUR ADVENTURES • COLLECT YOUR ADVENTURES • COLLECT YOUR ADVENTURES • COLLECT YOUR ADVENTURES • COLLECT YOUR ADVENTURES • COLLECT YOUR ADVENTURES • COLLECT YOUR ADVENTURES • COLLECT YOUR ADVENTURES • COLLECT YOUR ADVENTURES • COLLECT YOUR ADVENTURES •
COLLECT YOUR ADVENTURES • COLLECT YOUR ADVENTURES • COLLECT YOUR ADVENTURES • COLLECT YOUR ADVENTURES • COLLECT YOUR ADVENTURES • COLLECT YOUR ADVENTURES • COLLECT YOUR ADVENTURES • COLLECT YOUR ADVENTURES • COLLECT YOUR ADVENTURES • COLLECT YOUR ADVENTURES • COLLECT YOUR ADVENTURES • COLLECT YOUR ADVENTURES • COLLECT YOUR ADVENTURES • COLLECT YOUR ADVENTURES • COLLECT YOUR ADVENTURES • COLLECT YOUR ADVENTURES •
COLLECT YOUR ADVENTURES • COLLECT YOUR ADVENTURES • COLLECT YOUR ADVENTURES • COLLECT YOUR ADVENTURES • COLLECT YOUR ADVENTURES • COLLECT YOUR ADVENTURES • COLLECT YOUR ADVENTURES • COLLECT YOUR ADVENTURES • COLLECT YOUR ADVENTURES • COLLECT YOUR ADVENTURES • COLLECT YOUR ADVENTURES • COLLECT YOUR ADVENTURES • COLLECT YOUR ADVENTURES • COLLECT YOUR ADVENTURES • COLLECT YOUR ADVENTURES • COLLECT YOUR ADVENTURES •