At Jet Set Candy,
Travel Is Our World
Launched in October 2014, our passion fueled us to develop the first premium line of travel souvenirs so we could collect our global adventures. Our jewelry is stylish, playful, and just a little cheeky. It's modern yet nostalgic and always classic.
Each piece in our collectible, destination-specific range is thoughtfully designed and meticulously crafted and from quality sterling silver, 14k vermeil, or solid gold.
Jet Set Candy captures the spirit of favorite destinations and far-flung places. But this adventure is just beginning. We're adding new locales to our collection all the time, so stay updated by following us on Instagram or signing up for our newsletter. Tell us where on the map you would like us to go next, we'd love to hear from you!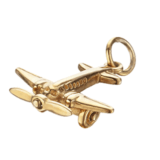 Jet Set Candy captures the spirit of favorite destinations and far-flung places.
SHOP NOW


Nicole Parker King,
Founder & Designer
Throughout her travels to over six continents and more than 50 countries, Nicole Parker King was always on the quest for the perfect souvenir. The seed for Jet Set Candy was planted while on a trip to Sri Lanka where, after only finding generic t-shirts with sunset designs and home goods that were more authentic but not easily packable, Parker King set out to reinvent travel souvenirs with a line of collectible and stylish, wearable keepsakes for travel lovers.
While living in India for three and a half years with her Australian Diplomat husband (now currently at the United Nations), Parker King refined the concept and created the designs that would form Jet Set Candy's debut collection which launched immediately upon the couple's return to New York in October, 2014.
Parker King is a sixth generation New Yorker and graduate of the Rhode Island School of Design and former creative director at L'Oréal.