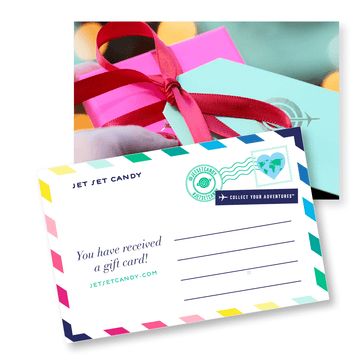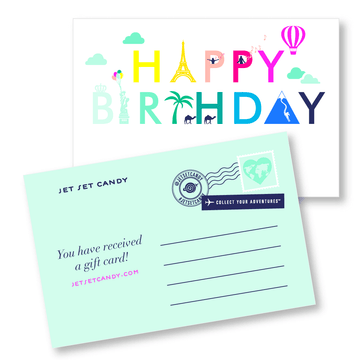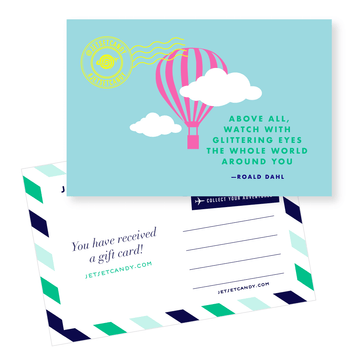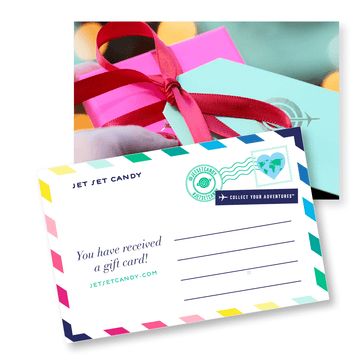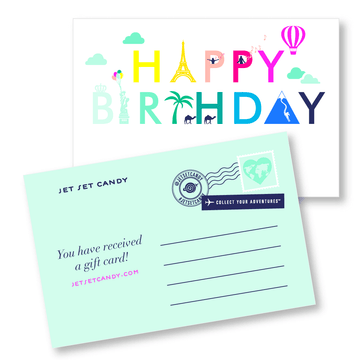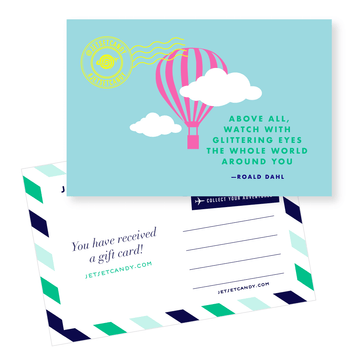 4 installments of $5.00 by
Free U.S. shipping orders $100+
Free U.S. shipping orders $100+ and expedited options at checkout.
Free 60 Day Returns
Enjoy an extended 60 day free return period for the holidays. Products will be accepted for exchange, credit or refund (excluding all shipping charges) if returned in their original condition with packaging. Pre-ordered solid gold, gifts cards, items with engraving and most sale items are non-returnable.
2 Year Warranty
Jet Set Candy offers a two-year warranty covering manufacturing and material defects for genuine Jet Set Candy products. More
Details
A Jet Set Candy Gift Card is the perfect gift for someone special. Emailed to you or your recipient immediately or on a chosen date, this is perfect anytime of year, especially if you're looking for a last-minute gift.
To redeem, your recipient simply enters their unique code upon checkout.

Please note that you may be asked to provide payment and identification prior to your gift card being fulfilled. Please allow 24 hours.

Read More
Shipping & Returns
Free U.S. shipping orders $100+
Standard U.S. shipping $8

Canada & Mexico: $30
Free on orders over $150

Items in stock are typically dispatched within 4 business days. Expedited shipping options are available for the U.S. upon checkout.

International shipping: $40
Free on orders over $250

International customers are responsible for all local duties and taxes.

Please see here for all shipping terms and our return policy.
Free U.S. Shipping Orders $100+ & International $250+
Size Comparison
This pendant sits perfectly on a chain, necklace, or keyring!
Gift-Ready Packaging
Hidden travel quotes, map & coordinate details, and always pops of color. More on the anatomy of JSC packaging here.

WHAT'S YOUR STORY?
Not sure where to start? Think of the place that has the most special memories for you and start from there.
COLLECT YOUR ADVENTURES • COLLECT YOUR ADVENTURES • COLLECT YOUR ADVENTURES • COLLECT YOUR ADVENTURES • COLLECT YOUR ADVENTURES • COLLECT YOUR ADVENTURES • COLLECT YOUR ADVENTURES • COLLECT YOUR ADVENTURES • COLLECT YOUR ADVENTURES • COLLECT YOUR ADVENTURES • COLLECT YOUR ADVENTURES • COLLECT YOUR ADVENTURES • COLLECT YOUR ADVENTURES • COLLECT YOUR ADVENTURES • COLLECT YOUR ADVENTURES • COLLECT YOUR ADVENTURES •
COLLECT YOUR ADVENTURES • COLLECT YOUR ADVENTURES • COLLECT YOUR ADVENTURES • COLLECT YOUR ADVENTURES • COLLECT YOUR ADVENTURES • COLLECT YOUR ADVENTURES • COLLECT YOUR ADVENTURES • COLLECT YOUR ADVENTURES • COLLECT YOUR ADVENTURES • COLLECT YOUR ADVENTURES • COLLECT YOUR ADVENTURES • COLLECT YOUR ADVENTURES • COLLECT YOUR ADVENTURES • COLLECT YOUR ADVENTURES • COLLECT YOUR ADVENTURES • COLLECT YOUR ADVENTURES •
COLLECT YOUR ADVENTURES • COLLECT YOUR ADVENTURES • COLLECT YOUR ADVENTURES • COLLECT YOUR ADVENTURES • COLLECT YOUR ADVENTURES • COLLECT YOUR ADVENTURES • COLLECT YOUR ADVENTURES • COLLECT YOUR ADVENTURES • COLLECT YOUR ADVENTURES • COLLECT YOUR ADVENTURES • COLLECT YOUR ADVENTURES • COLLECT YOUR ADVENTURES • COLLECT YOUR ADVENTURES • COLLECT YOUR ADVENTURES • COLLECT YOUR ADVENTURES • COLLECT YOUR ADVENTURES •
COLLECT YOUR ADVENTURES • COLLECT YOUR ADVENTURES • COLLECT YOUR ADVENTURES • COLLECT YOUR ADVENTURES • COLLECT YOUR ADVENTURES • COLLECT YOUR ADVENTURES • COLLECT YOUR ADVENTURES • COLLECT YOUR ADVENTURES • COLLECT YOUR ADVENTURES • COLLECT YOUR ADVENTURES • COLLECT YOUR ADVENTURES • COLLECT YOUR ADVENTURES • COLLECT YOUR ADVENTURES • COLLECT YOUR ADVENTURES • COLLECT YOUR ADVENTURES • COLLECT YOUR ADVENTURES •