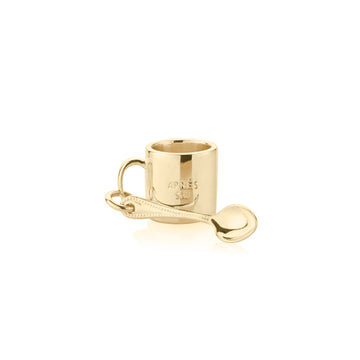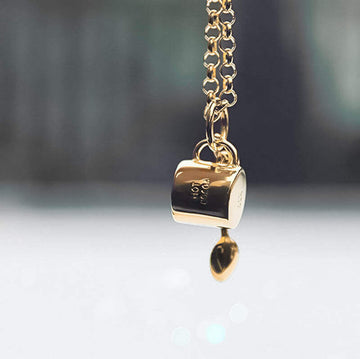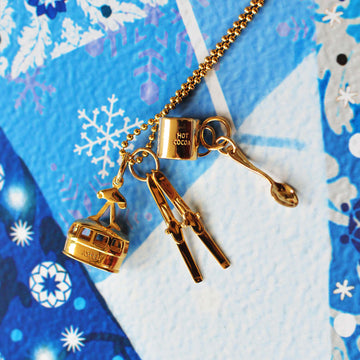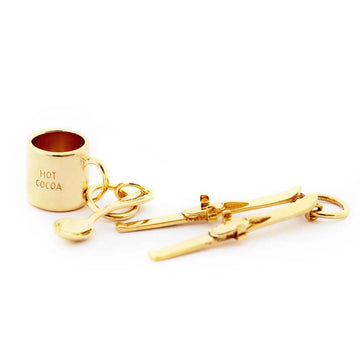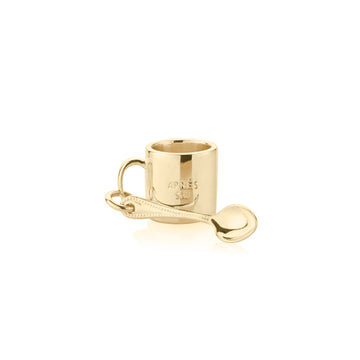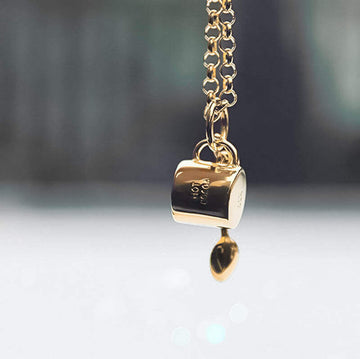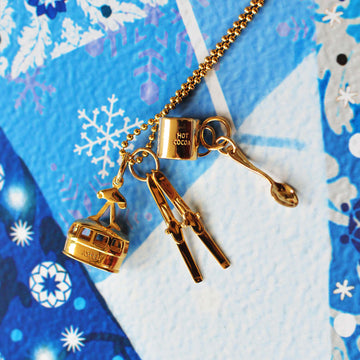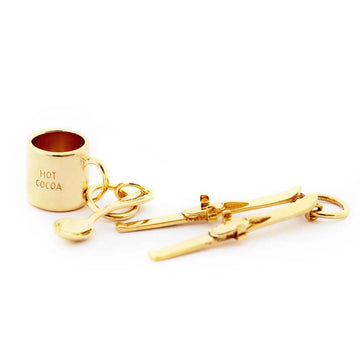 Hot Chocolate Après Ski Mug Charm
4 installments of $24.50 by
Free U.S. shipping orders $100+
Free U.S. shipping orders $100+ and expedited options at checkout.
Free 60 Day Returns
Enjoy an extended 60 day free return period for the holidays. Products will be accepted for exchange, credit or refund (excluding all shipping charges) if returned in their original condition with packaging. Pre-ordered solid gold, gifts cards, items with engraving and most sale items are non-returnable.
2 Year Warranty
Jet Set Candy offers a two-year warranty covering manufacturing and material defects for genuine Jet Set Candy products. More
Free U.S. Shipping Orders $100+ & International $250+
Size Comparison
This pendant sits perfectly on a chain, necklace, or keyring!
Gift-Ready Packaging
Hidden travel quotes, map & coordinate details, and always pops of color. More on the anatomy of JSC packaging here.

Gold Vermeil
Vermeil (pronounced VER-MAY) is sterling silver that has been coated with a heavy layer (minimum 2.5 microns) of 14k gold. Our charms, chains and bracelets have a 3 micron layer (6 times the thickness of typical flash plating) while our cuffs and rings have at least 5 microns of gold.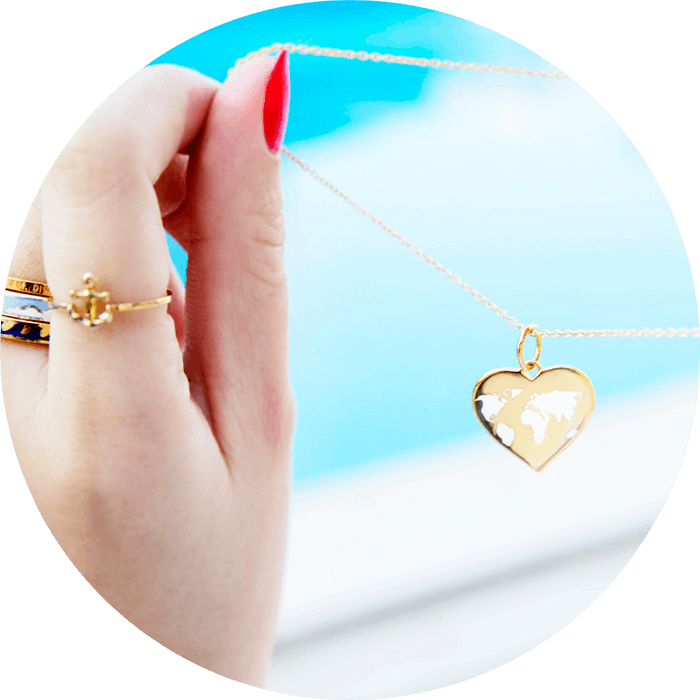 WHAT'S YOUR STORY?
Not sure where to start? Think of the place that has the most special memories for you and start from there.
COLLECT YOUR ADVENTURES • COLLECT YOUR ADVENTURES • COLLECT YOUR ADVENTURES • COLLECT YOUR ADVENTURES • COLLECT YOUR ADVENTURES • COLLECT YOUR ADVENTURES • COLLECT YOUR ADVENTURES • COLLECT YOUR ADVENTURES • COLLECT YOUR ADVENTURES • COLLECT YOUR ADVENTURES • COLLECT YOUR ADVENTURES • COLLECT YOUR ADVENTURES • COLLECT YOUR ADVENTURES • COLLECT YOUR ADVENTURES • COLLECT YOUR ADVENTURES • COLLECT YOUR ADVENTURES •
COLLECT YOUR ADVENTURES • COLLECT YOUR ADVENTURES • COLLECT YOUR ADVENTURES • COLLECT YOUR ADVENTURES • COLLECT YOUR ADVENTURES • COLLECT YOUR ADVENTURES • COLLECT YOUR ADVENTURES • COLLECT YOUR ADVENTURES • COLLECT YOUR ADVENTURES • COLLECT YOUR ADVENTURES • COLLECT YOUR ADVENTURES • COLLECT YOUR ADVENTURES • COLLECT YOUR ADVENTURES • COLLECT YOUR ADVENTURES • COLLECT YOUR ADVENTURES • COLLECT YOUR ADVENTURES •
COLLECT YOUR ADVENTURES • COLLECT YOUR ADVENTURES • COLLECT YOUR ADVENTURES • COLLECT YOUR ADVENTURES • COLLECT YOUR ADVENTURES • COLLECT YOUR ADVENTURES • COLLECT YOUR ADVENTURES • COLLECT YOUR ADVENTURES • COLLECT YOUR ADVENTURES • COLLECT YOUR ADVENTURES • COLLECT YOUR ADVENTURES • COLLECT YOUR ADVENTURES • COLLECT YOUR ADVENTURES • COLLECT YOUR ADVENTURES • COLLECT YOUR ADVENTURES • COLLECT YOUR ADVENTURES •
COLLECT YOUR ADVENTURES • COLLECT YOUR ADVENTURES • COLLECT YOUR ADVENTURES • COLLECT YOUR ADVENTURES • COLLECT YOUR ADVENTURES • COLLECT YOUR ADVENTURES • COLLECT YOUR ADVENTURES • COLLECT YOUR ADVENTURES • COLLECT YOUR ADVENTURES • COLLECT YOUR ADVENTURES • COLLECT YOUR ADVENTURES • COLLECT YOUR ADVENTURES • COLLECT YOUR ADVENTURES • COLLECT YOUR ADVENTURES • COLLECT YOUR ADVENTURES • COLLECT YOUR ADVENTURES •