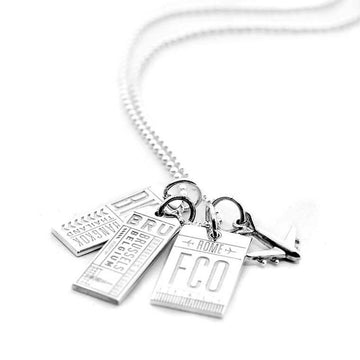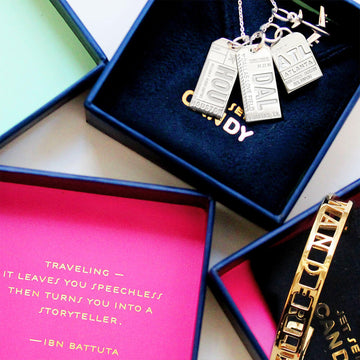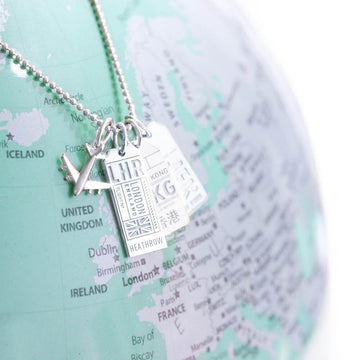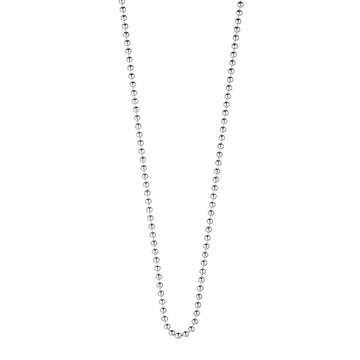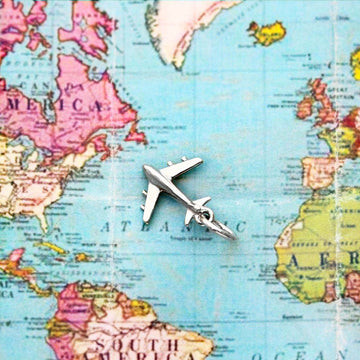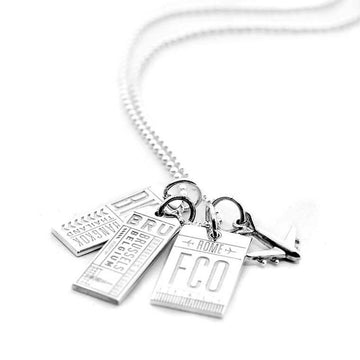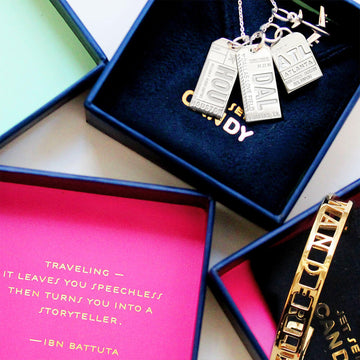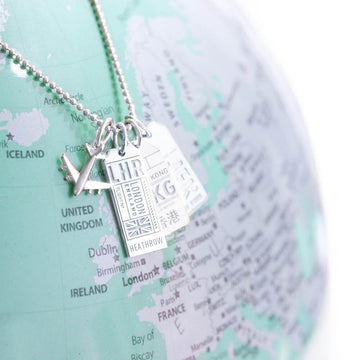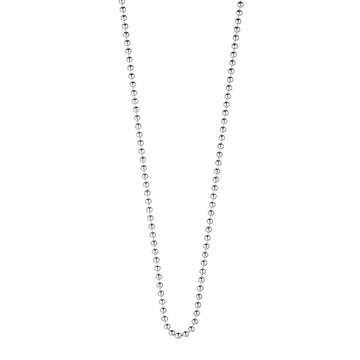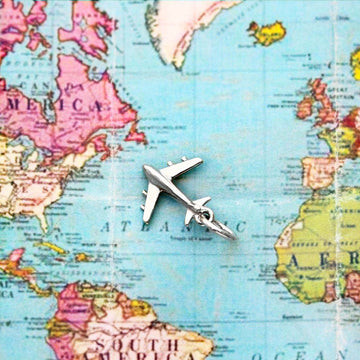 3 Luggage Tag Charms 18" Necklace Bundle
4 installments of $64.50 by
Free U.S. shipping orders $100+
Free U.S. shipping orders $100+ and expedited options at checkout.
Free 30 Day Returns
Products will be accepted for exchange, credit or refund (excluding all shipping charges) if returned in their original condition with packaging. Pre-ordered solid gold, gifts cards, items with engraving and most sale items are non-returnable.
2 Year Warranty
Jet Set Candy offers a two-year warranty covering manufacturing and material defects for genuine Jet Set Candy products. More
Details
This bundle is a classic travel necklace and comes complete on a sterling silver 16-18" adjustable cable chain with a mini plane charm. 

VIEW ALL LOCATIONS HERE 

Included in solid sterling silver:
16-18" adjustable ball chain

Mini plane charm (14 mm)

3 luggage tag charms



Read More
Shipping & Returns
Free U.S. shipping orders $100+
Standard U.S. shipping $8

Canada & Mexico: $30
Free on orders over $150

Items in stock are typically dispatched within 4 business days. Expedited shipping options are available for the U.S. upon checkout.

International shipping: $40
Free on orders over $250

International customers are responsible for all local duties and taxes.

Please see here for all shipping terms and our return policy.
Reviews
Customer Reviews
Write a Review
Ask a Question
08/16/2023
Zoe F.

United States
The Perfect Mementos!
I am a diehard Jet Set Candy fan at this point. I love the design of their passport charms and appreciate that I was able to engrave them with a message on the back. They feel so premium and special and I love collecting the places I've lived. They are a timeless statement piece and personal travel memento. If I could collect all of them I would!
Thank you Zoe! This means a lot to us.
08/16/2023
Amy I.

United States
Better than a vacation trinket!!
Such a great product! I used to purchase Tee shirts or Christmas ornaments. These charms are so much more fun and durable!
08/16/2023
Amy I.

United States
Love my charms!
They are beautifully made and each charm reminds me of a wonderful travel experience. I highly recommend.
08/15/2023
Rachel B.

United States
Beautiful
Loved it, can't wait for my Bahamas trip
08/08/2023
Rachel B.

United States
Perfect
Love it, as I love all the charms
07/20/2023
Miriam K.

United States
Love it
Love my charm and all of the charms I have purchased from you over the years. Your delivery is always delayed. Regardless, I keep finding awesome new charms and chains which always get compliments!
Free U.S. Shipping Orders $100+ & International $250+
Size Comparison
This pendant sits perfectly on a chain, necklace, or keyring!
Gift-Ready Packaging
Hidden travel quotes, map & coordinate details, and always pops of color. More on the anatomy of JSC packaging here.

Sterling Silver
Jet Set Candy uses 925 solid sterling silver, a beautiful, versatile metal with a soft luster.

To ensure maximum durability, our silver is composed of 92.5% pure silver and metals including zinc and copper. All our jewelry is nickel and lead free and is sourced from 70% recycled precious metals. Silver and gold can be recycled forever without losing quality or value.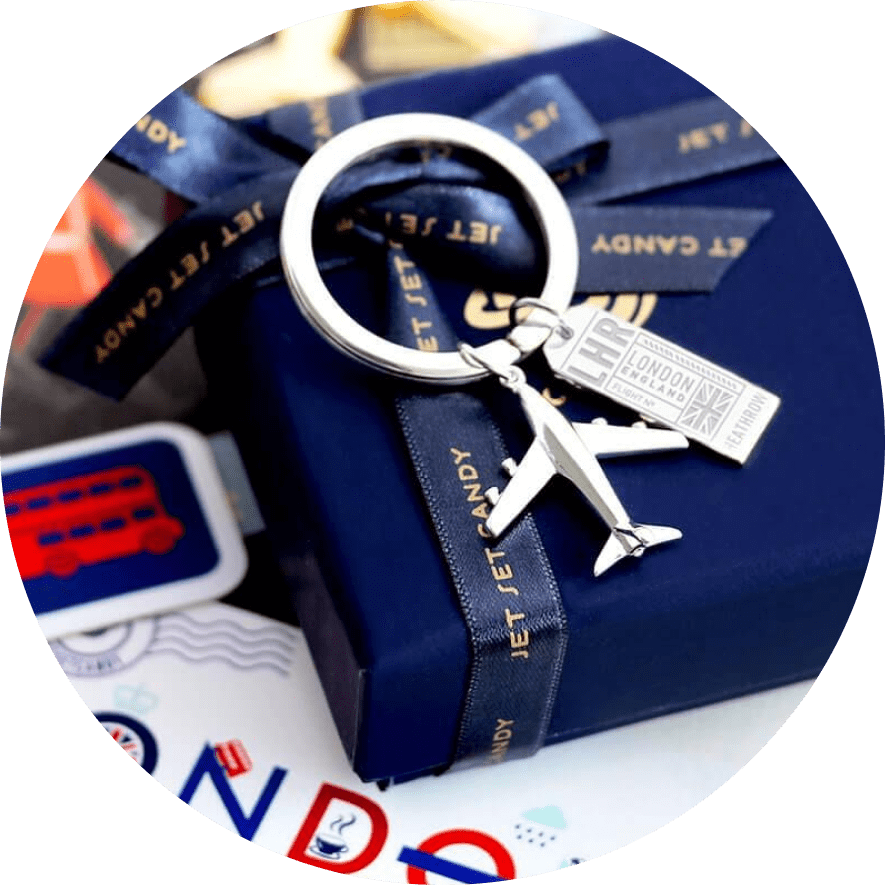 WHAT'S YOUR STORY?
Not sure where to start? Think of the place that has the most special memories for you and start from there.
COLLECT YOUR ADVENTURES • COLLECT YOUR ADVENTURES • COLLECT YOUR ADVENTURES • COLLECT YOUR ADVENTURES • COLLECT YOUR ADVENTURES • COLLECT YOUR ADVENTURES • COLLECT YOUR ADVENTURES • COLLECT YOUR ADVENTURES • COLLECT YOUR ADVENTURES • COLLECT YOUR ADVENTURES • COLLECT YOUR ADVENTURES • COLLECT YOUR ADVENTURES • COLLECT YOUR ADVENTURES • COLLECT YOUR ADVENTURES • COLLECT YOUR ADVENTURES • COLLECT YOUR ADVENTURES •
COLLECT YOUR ADVENTURES • COLLECT YOUR ADVENTURES • COLLECT YOUR ADVENTURES • COLLECT YOUR ADVENTURES • COLLECT YOUR ADVENTURES • COLLECT YOUR ADVENTURES • COLLECT YOUR ADVENTURES • COLLECT YOUR ADVENTURES • COLLECT YOUR ADVENTURES • COLLECT YOUR ADVENTURES • COLLECT YOUR ADVENTURES • COLLECT YOUR ADVENTURES • COLLECT YOUR ADVENTURES • COLLECT YOUR ADVENTURES • COLLECT YOUR ADVENTURES • COLLECT YOUR ADVENTURES •
COLLECT YOUR ADVENTURES • COLLECT YOUR ADVENTURES • COLLECT YOUR ADVENTURES • COLLECT YOUR ADVENTURES • COLLECT YOUR ADVENTURES • COLLECT YOUR ADVENTURES • COLLECT YOUR ADVENTURES • COLLECT YOUR ADVENTURES • COLLECT YOUR ADVENTURES • COLLECT YOUR ADVENTURES • COLLECT YOUR ADVENTURES • COLLECT YOUR ADVENTURES • COLLECT YOUR ADVENTURES • COLLECT YOUR ADVENTURES • COLLECT YOUR ADVENTURES • COLLECT YOUR ADVENTURES •
COLLECT YOUR ADVENTURES • COLLECT YOUR ADVENTURES • COLLECT YOUR ADVENTURES • COLLECT YOUR ADVENTURES • COLLECT YOUR ADVENTURES • COLLECT YOUR ADVENTURES • COLLECT YOUR ADVENTURES • COLLECT YOUR ADVENTURES • COLLECT YOUR ADVENTURES • COLLECT YOUR ADVENTURES • COLLECT YOUR ADVENTURES • COLLECT YOUR ADVENTURES • COLLECT YOUR ADVENTURES • COLLECT YOUR ADVENTURES • COLLECT YOUR ADVENTURES • COLLECT YOUR ADVENTURES •