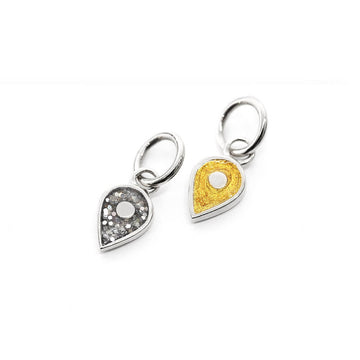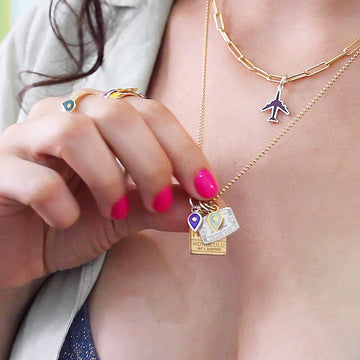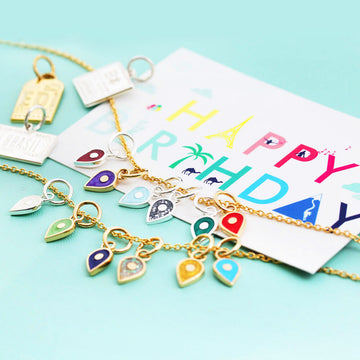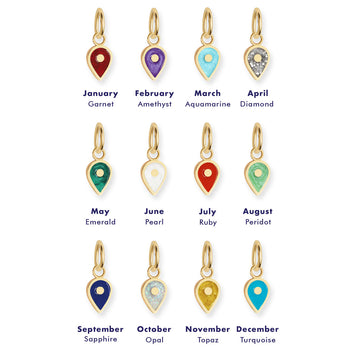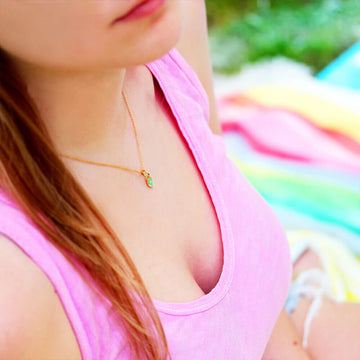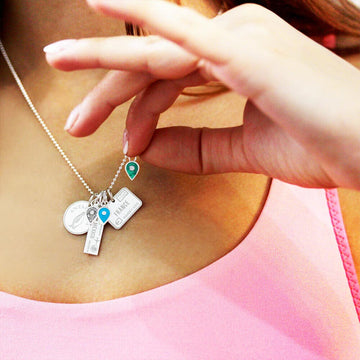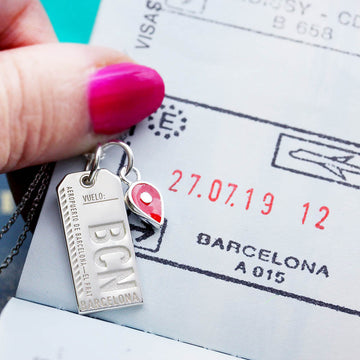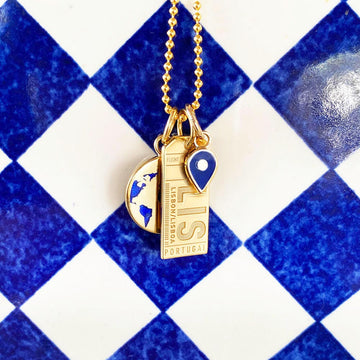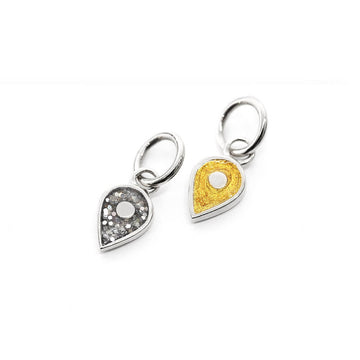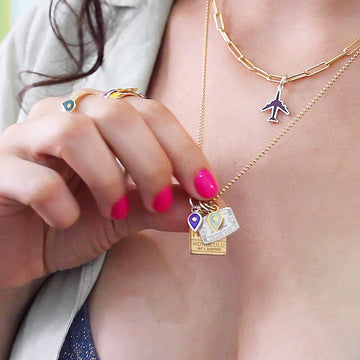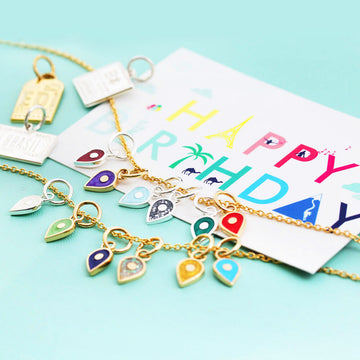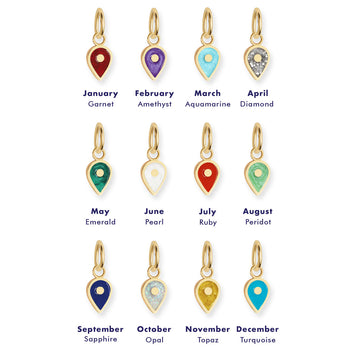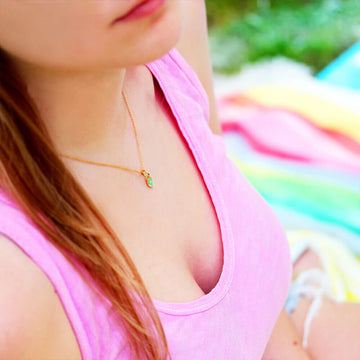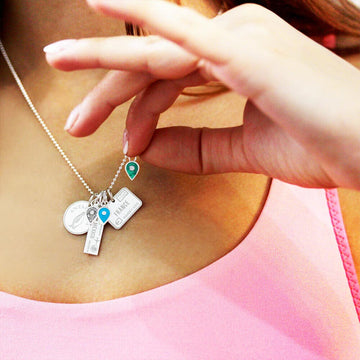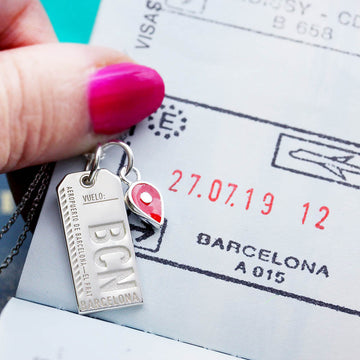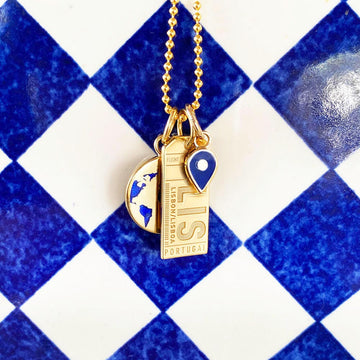 2 Enamel Birthstone Charms Bundle
4 installments of $14.50 by
Free U.S. shipping orders $100+
Free U.S. shipping orders $100+ and expedited options at checkout.
Free 30 Day Returns
Products will be accepted for exchange, credit or refund (excluding all shipping charges) if returned in their original condition with packaging. Pre-ordered solid gold, gifts cards, items with engraving and most sale items are non-returnable.
2 Year Warranty
Jet Set Candy offers a two-year warranty covering manufacturing and material defects for genuine Jet Set Candy products. More
Details
Well, break out the streamers and cake! Our enamel birthstone map pin charms celebrate you and your loved ones' special month and keep the party going all year long. Let us know what 2 enamel birthstone charms you'd like above.

Approximate dimensions: 8 mm x 1 mm
Read More
Shipping & Returns
Free U.S. shipping orders $100+
Standard U.S. shipping $8

Canada & Mexico: $30
Free on orders over $150

Items in stock are typically dispatched within 4 business days. Expedited shipping options are available for the U.S. upon checkout.

International shipping: $40
Free on orders over $250

International customers are responsible for all local duties and taxes.

Please see here for all shipping terms and our return policy.
Reviews
Customer Reviews
Write a Review
Ask a Question
12/07/2022
Kim M.

United States
Love this ring!
So impressed with the style, quality and design. Comfort is top notch. Very pleased with purchase.
12/05/2022
holly m.

United States
Just Gorgeous!
Beautiful quality. Fun, adventurous statement. I need more!!!!
11/29/2022
Marian R.

Netherlands
Soo cute
The ring is slimmer than expected, which makes it even cuter. The details and colour are amazing. Very happy with this gem!
10/26/2022
Matthew B.

United States
Ring a ding
Its a pretty piece that feelsas good as it looks
09/16/2022
Kelly

United States
Best ring ever
I just love this ring so much. It's exactly what I always wanted and the shine and quality are very nice and better than expected. I never take it off and have been wearing it for a few weeks and it still has such great shine. Very worth it and no regrets. Thinking of getting anther one in case anything happens to this one.
08/31/2022
Alexis L.

United States
Love this ring even more in person
I've collected around a dozen charms so far, all of which I love. This ring however is much more wearable day to day, and I love it so much! Really hope it holds up well as I can see myself wearing this for a long time.
Free U.S. Shipping Orders $100+ & International $250+
Size Comparison
This pendant sits perfectly on a chain, necklace, or keyring!
Gift-Ready Packaging
Hidden travel quotes, map & coordinate details, and always pops of color. More on the anatomy of JSC packaging here.

Sterling Silver
Jet Set Candy uses 925 solid sterling silver, a beautiful, versatile metal with a soft luster.

To ensure maximum durability, our silver is composed of 92.5% pure silver and metals including zinc and copper. All our jewelry is nickel and lead free and is sourced from 70% recycled precious metals. Silver and gold can be recycled forever without losing quality or value.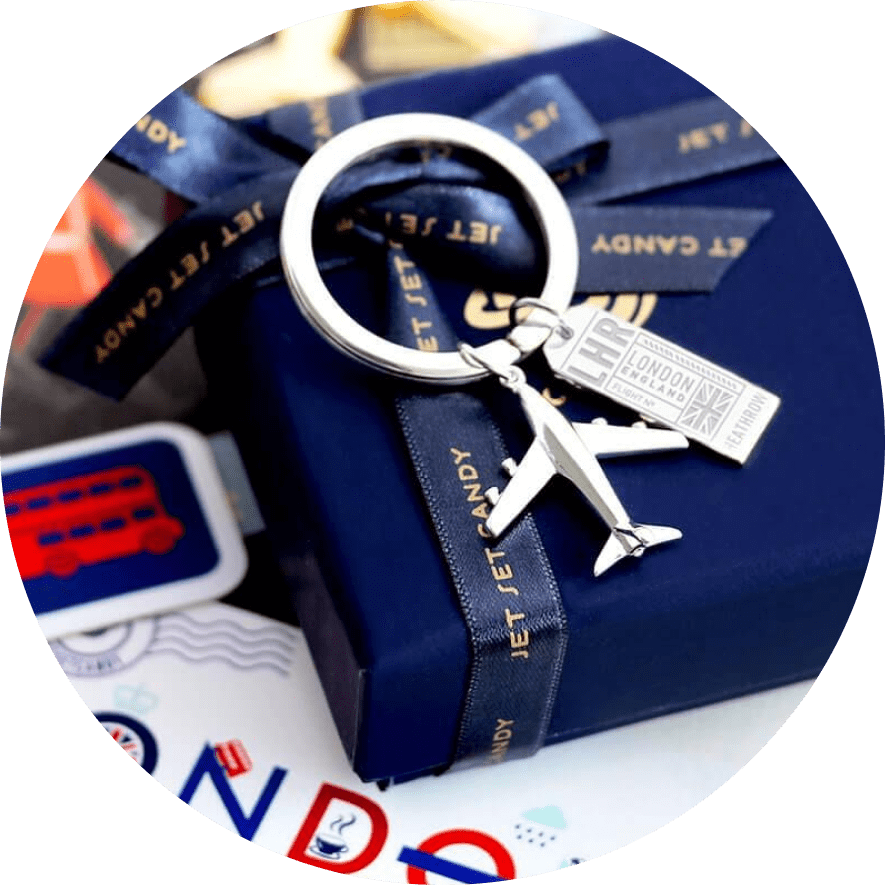 WHAT'S YOUR STORY?
Not sure where to start? Think of the place that has the most special memories for you and start from there.
COLLECT YOUR ADVENTURES • COLLECT YOUR ADVENTURES • COLLECT YOUR ADVENTURES • COLLECT YOUR ADVENTURES • COLLECT YOUR ADVENTURES • COLLECT YOUR ADVENTURES • COLLECT YOUR ADVENTURES • COLLECT YOUR ADVENTURES • COLLECT YOUR ADVENTURES • COLLECT YOUR ADVENTURES • COLLECT YOUR ADVENTURES • COLLECT YOUR ADVENTURES • COLLECT YOUR ADVENTURES • COLLECT YOUR ADVENTURES • COLLECT YOUR ADVENTURES • COLLECT YOUR ADVENTURES •
COLLECT YOUR ADVENTURES • COLLECT YOUR ADVENTURES • COLLECT YOUR ADVENTURES • COLLECT YOUR ADVENTURES • COLLECT YOUR ADVENTURES • COLLECT YOUR ADVENTURES • COLLECT YOUR ADVENTURES • COLLECT YOUR ADVENTURES • COLLECT YOUR ADVENTURES • COLLECT YOUR ADVENTURES • COLLECT YOUR ADVENTURES • COLLECT YOUR ADVENTURES • COLLECT YOUR ADVENTURES • COLLECT YOUR ADVENTURES • COLLECT YOUR ADVENTURES • COLLECT YOUR ADVENTURES •
COLLECT YOUR ADVENTURES • COLLECT YOUR ADVENTURES • COLLECT YOUR ADVENTURES • COLLECT YOUR ADVENTURES • COLLECT YOUR ADVENTURES • COLLECT YOUR ADVENTURES • COLLECT YOUR ADVENTURES • COLLECT YOUR ADVENTURES • COLLECT YOUR ADVENTURES • COLLECT YOUR ADVENTURES • COLLECT YOUR ADVENTURES • COLLECT YOUR ADVENTURES • COLLECT YOUR ADVENTURES • COLLECT YOUR ADVENTURES • COLLECT YOUR ADVENTURES • COLLECT YOUR ADVENTURES •
COLLECT YOUR ADVENTURES • COLLECT YOUR ADVENTURES • COLLECT YOUR ADVENTURES • COLLECT YOUR ADVENTURES • COLLECT YOUR ADVENTURES • COLLECT YOUR ADVENTURES • COLLECT YOUR ADVENTURES • COLLECT YOUR ADVENTURES • COLLECT YOUR ADVENTURES • COLLECT YOUR ADVENTURES • COLLECT YOUR ADVENTURES • COLLECT YOUR ADVENTURES • COLLECT YOUR ADVENTURES • COLLECT YOUR ADVENTURES • COLLECT YOUR ADVENTURES • COLLECT YOUR ADVENTURES •