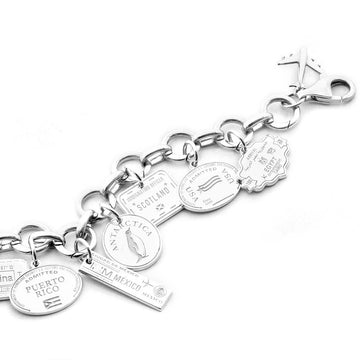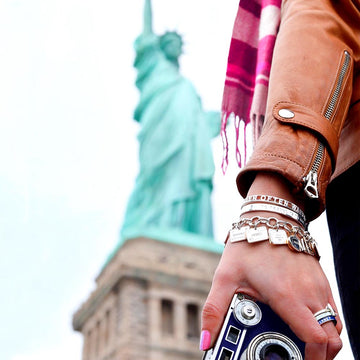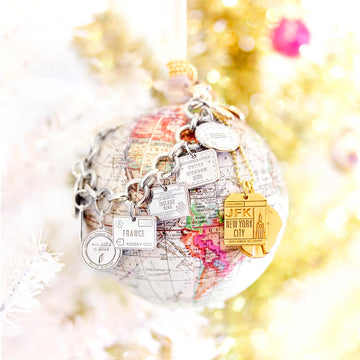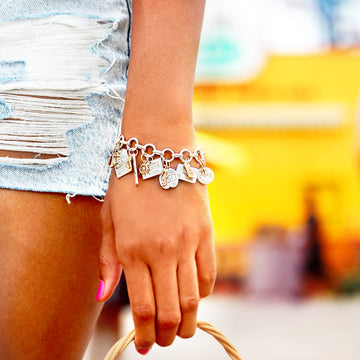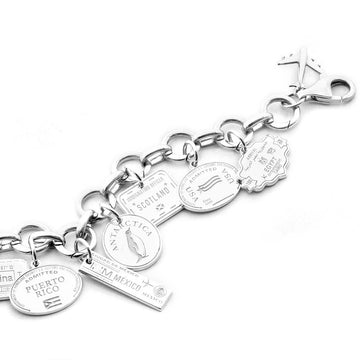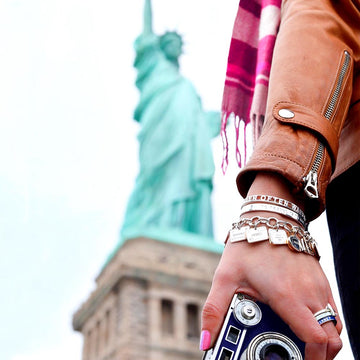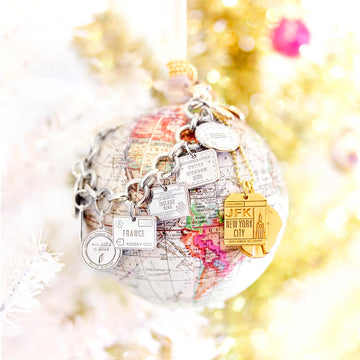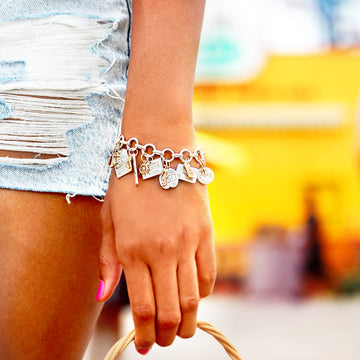 12 Passport Stamp Charm Bracelet Bundle
4 installments of $174.50 by
Free U.S. shipping orders $100+
Free U.S. shipping orders $100+ and expedited options at checkout.
Free 30 Day Returns
Products will be accepted for exchange, credit or refund (excluding all shipping charges) if returned in their original condition with packaging. Pre-ordered solid gold, gifts cards, items with engraving and most sale items are non-returnable.
2 Year Warranty
Jet Set Candy offers a two-year warranty covering manufacturing and material defects for genuine Jet Set Candy products. More
Details
This sterling silver Jet Set includes 12 travel charms on our bestselling Infinity link charm bracelet. Featuring 12 links that open easily so you can continue adding more charms, it comes complete with our signature mini silver airplane charm.

Included in 925 solid sterling silver:
Read More
Shipping & Returns
Free U.S. shipping orders $100+
Standard U.S. shipping $8

Canada & Mexico: $30
Free on orders over $150

Items in stock are typically dispatched within 4 business days. Expedited shipping options are available for the U.S. upon checkout.

International shipping: $40
Free on orders over $250

International customers are responsible for all local duties and taxes.

Please see here for all shipping terms and our return policy.
Reviews
Customer Reviews
Write a Review
Ask a Question
08/15/2023
Linda D.

United States
Vatican City Passport stamp charm
I love the detail and quality of this charm, brings back some wonderful memories
08/08/2023
barbara m.

United States
Greece charm
I have collected charms fro Jet Set for trips and special occasions and they are just the best. Treat yourself to something. Pieces are made beautifully ( have even had a few small ones engraved)
07/21/2023
Keliann L.

United States
Stunning pieces
I've never loved a bracelet or charm more. These are stunning.
07/19/2023
michelle m.

United States
Beautiful charm. Wonderfully packaged!
Love it! Perfectly executed and a wonderful piece.
07/18/2023
Roslyn T.

United States
Love the shape
High quality and nice weight, these charms are look so pretty and are such a unique design.
06/29/2023
Dionne S.

United States
My niece absolutely loves it
This was a graduation gift for my niece. I had Mom 2016 engraved on the back because she went to Thailand with her Mom that year. By doing so I combined to of her loves: traveling and her Mom. She absolutely loves it
Free U.S. Shipping Orders $100+ & International $250+
Size Comparison
This pendant sits perfectly on a chain, necklace, or keyring!
Gift-Ready Packaging
Hidden travel quotes, map & coordinate details, and always pops of color. More on the anatomy of JSC packaging here.

Sterling Silver
Jet Set Candy uses 925 solid sterling silver, a beautiful, versatile metal with a soft luster.

To ensure maximum durability, our silver is composed of 92.5% pure silver and metals including zinc and copper. All our jewelry is nickel and lead free and is sourced from 70% recycled precious metals. Silver and gold can be recycled forever without losing quality or value.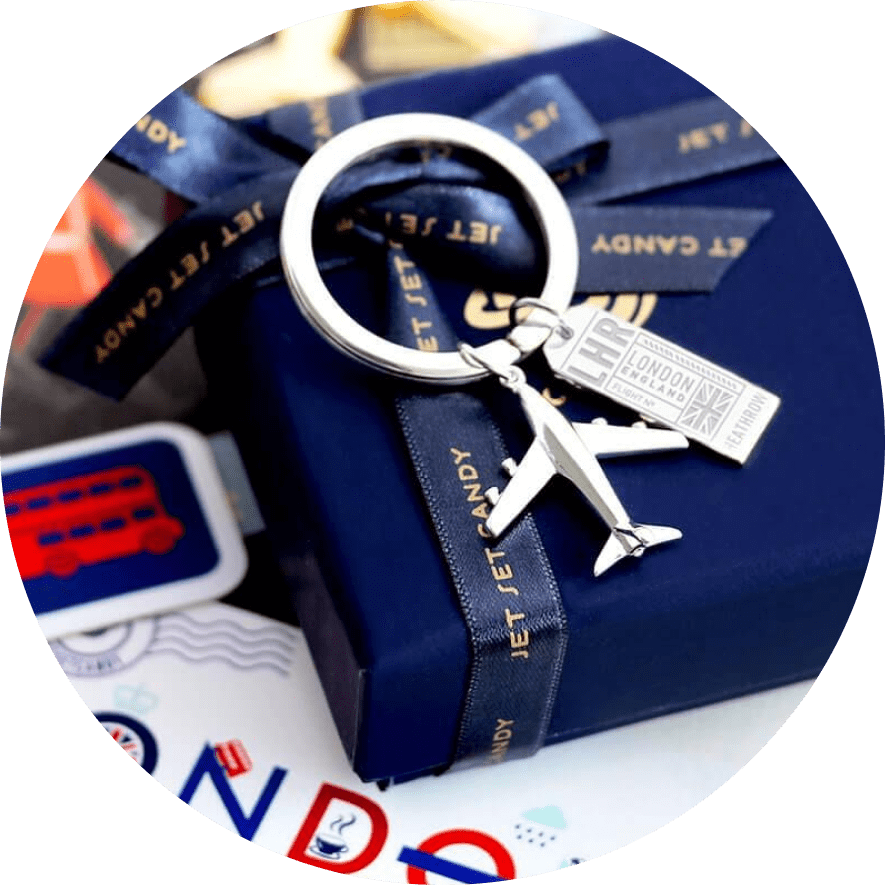 WHAT'S YOUR STORY?
Not sure where to start? Think of the place that has the most special memories for you and start from there.
COLLECT YOUR ADVENTURES • COLLECT YOUR ADVENTURES • COLLECT YOUR ADVENTURES • COLLECT YOUR ADVENTURES • COLLECT YOUR ADVENTURES • COLLECT YOUR ADVENTURES • COLLECT YOUR ADVENTURES • COLLECT YOUR ADVENTURES • COLLECT YOUR ADVENTURES • COLLECT YOUR ADVENTURES • COLLECT YOUR ADVENTURES • COLLECT YOUR ADVENTURES • COLLECT YOUR ADVENTURES • COLLECT YOUR ADVENTURES • COLLECT YOUR ADVENTURES • COLLECT YOUR ADVENTURES •
COLLECT YOUR ADVENTURES • COLLECT YOUR ADVENTURES • COLLECT YOUR ADVENTURES • COLLECT YOUR ADVENTURES • COLLECT YOUR ADVENTURES • COLLECT YOUR ADVENTURES • COLLECT YOUR ADVENTURES • COLLECT YOUR ADVENTURES • COLLECT YOUR ADVENTURES • COLLECT YOUR ADVENTURES • COLLECT YOUR ADVENTURES • COLLECT YOUR ADVENTURES • COLLECT YOUR ADVENTURES • COLLECT YOUR ADVENTURES • COLLECT YOUR ADVENTURES • COLLECT YOUR ADVENTURES •
COLLECT YOUR ADVENTURES • COLLECT YOUR ADVENTURES • COLLECT YOUR ADVENTURES • COLLECT YOUR ADVENTURES • COLLECT YOUR ADVENTURES • COLLECT YOUR ADVENTURES • COLLECT YOUR ADVENTURES • COLLECT YOUR ADVENTURES • COLLECT YOUR ADVENTURES • COLLECT YOUR ADVENTURES • COLLECT YOUR ADVENTURES • COLLECT YOUR ADVENTURES • COLLECT YOUR ADVENTURES • COLLECT YOUR ADVENTURES • COLLECT YOUR ADVENTURES • COLLECT YOUR ADVENTURES •
COLLECT YOUR ADVENTURES • COLLECT YOUR ADVENTURES • COLLECT YOUR ADVENTURES • COLLECT YOUR ADVENTURES • COLLECT YOUR ADVENTURES • COLLECT YOUR ADVENTURES • COLLECT YOUR ADVENTURES • COLLECT YOUR ADVENTURES • COLLECT YOUR ADVENTURES • COLLECT YOUR ADVENTURES • COLLECT YOUR ADVENTURES • COLLECT YOUR ADVENTURES • COLLECT YOUR ADVENTURES • COLLECT YOUR ADVENTURES • COLLECT YOUR ADVENTURES • COLLECT YOUR ADVENTURES •